Introducing Integral's Sediment Newsletter: The Benthic Zone
By Eugene C. Revelas,
Senior Science Advisor
Nicole Ott,
Principal
Katherine Heal, Ph.D.,
Project Scientist
Neil P. Swanson,
Consultant
Cleanup and protection of waterways is facing ever-expanding challenges, ranging from emerging contaminants to the assessment of conditions in real time, to untangling complex histories.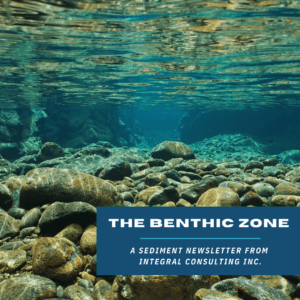 The Benthic Zone newsletter is the place where Integral scientists and engineers share their expertise, running the gamut of topics related to investigation, forensic evaluation, modeling, and remediation of contaminated sediments. Take a look under the water with us.
The latest edition of The Benthic Zone features two articles from Integral technical staff. Gene Revelas and Nicole Ott look at the sediment bed in their coauthored piece, "Mapping Dredging Residuals and Disposal Deposits," which allows engineers to assess dredging in real time, thus shaving time and costs off of dredging projects. Chemical testing to assess remaining residuals in the dredge prism and/or the spread of dredge residuals requires waiting for a laboratory to analyze sediment samples. Integral scientists are well-versed in the collection and interpretation of sediment profile images (SPI) to assess vertical and lateral spread of residuals in centimeter-scale layers, such that visual evidence provides more detailed and faster information than chemical testing.
"Unraveling Sediment PCB Signatures in Disparate Data Sets for Source Allocation," the second featured article in this edition of The Benthic Zone, is coauthored by Katherine Heal and Neil Swanson. Untangling the sources of sediment contamination in an industrial waterway requires careful consideration of all available lines of evidence, which may differ by collection time, precision, and level of detail. Laboratory measurement of PCBs, particularly quantification of the individual molecules (or congeners) present in each sample, is continually evolving, allowing for identification of more and more of the 209 individual PCB congeners. Those that aren't individually deciphered are reported as part of a group with similar congeners. Integral forensic analysts use unique steps to translate the individual and grouped PCB congener data from disparate studies into a common language to retain as much information as possible. Just as with criminal forensics, the more features for examining a fingerprint, the better.
To learn more about managing contaminated sediment sites, consider joining our upcoming webinar on April 26. During this online event, we will illustrate the importance of coupling conceptual site models with these innovative tools to efficiently address common site management questions. The attendee will come away with a baseline understanding of where these innovative tools can help address the complexity of contaminated sediment sites. Learn more and RSVP here.
If you would like to receive The Benthic Zone newsletter in the future, sign up below.