The OPTically based In situ Characterization System (OPTICS) is improving how water quality is monitored at aquatic sites. This patented technology (U.S. Patent No. 11079368) is a uniquely powerful and cost-effective tool for monitoring contaminants in surface water. OPTICS is used for a wide array of environmental applications, from source identification to monitoring of remedy performance, dredge plumes, and stormwater discharges.
Instrumentation
OPTICS uses a range of optical instruments to provide high-frequency determination of dissolved and particulate concentrations of contaminants over extended time periods. The unprecedented frequency and volume of data attained by OPTICS supports the development and refinement of conceptual site models to obtain a complete understanding of water quality and contaminant transport in response to natural processes and human impacts.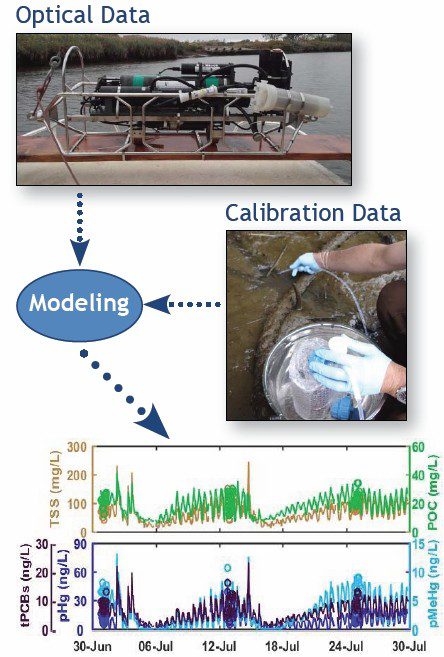 OPTICS Benefits
Cost-effective, high-frequency chemical concentration determination
Detailed chemical concentration trends and flux analyses
Customizable and modular with capability for real-time telemetry
Key line of evidence for designing and evaluating remedies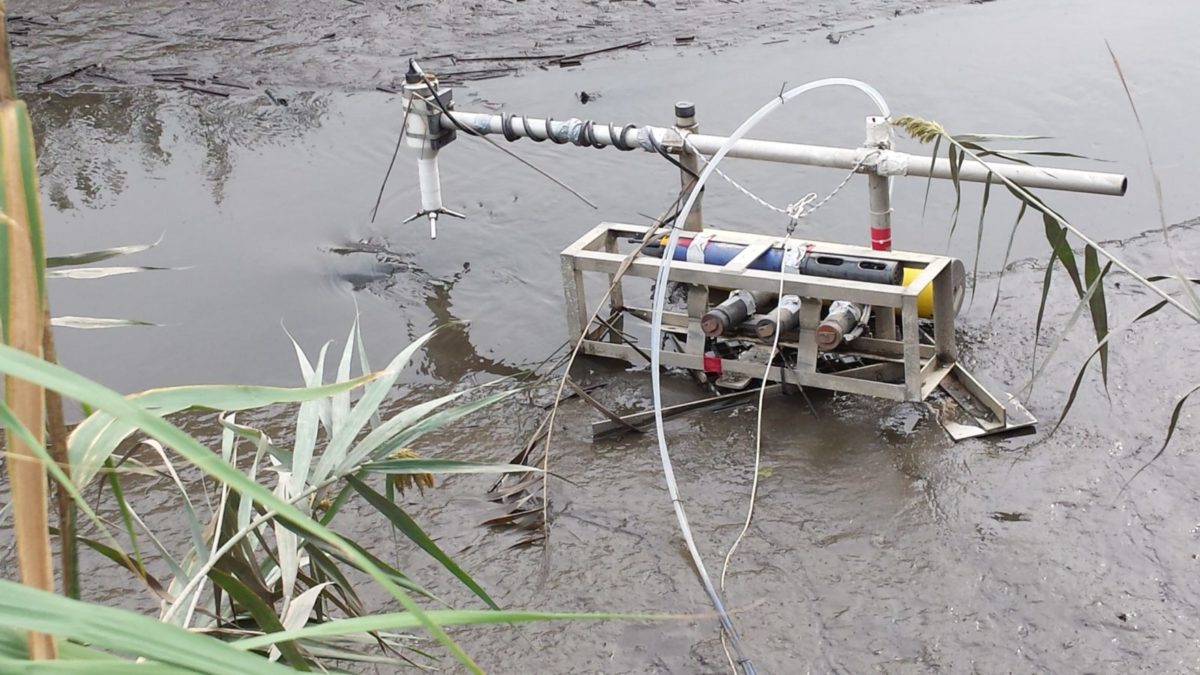 Data Collection
Because OPTICS monitoring involves deployment of autonomous sampling instrumentation, a substantially greater volume of data can be collected by this technique than by traditional sampling and at a far lower cost. A large volume of data supports evaluation of hydrophobic contaminant concentrations over a range of spatial and temporal scales, and the system can be customized for a variety of environmental applications.
Source Analyses
OPTICS supports analysis of contaminant concentration trends over a range of spatial and temporal scales. With OPTICS, the short- and long-term effects of natural and human-influenced processes, such as storm runoff, tidal surge events, discharges, or dredging, can be more confidently evaluated than with traditional data collection methods.
Contaminant Transport
When coupled with measurements of surface water flow, OPTICS helps quantify contaminant mass flux and the relative contribution of local transport and source areas to net contaminant transport. The improved understanding of site processes aids in the development of mitigation measures that minimize site risks.
Instrumentation
OPTICS uses well-established, robust instruments that are readily available, modular, and deployable across varied configurations (e.g., bottom-mounted, mid-water column, or vessel-mounted). The instruments can be powered internally, are easily serviced, and can be equipped with telemetry to support real-time data collection. The many instrument options available provide optimal data collection and reduced cost.
Remedy Design and Evaluation
OPTICS delivers a strong line of evidence for evaluating contaminant sources, fate, and transport, and for supporting the design of a remedy tailored to address site-specific, risk-driving conditions. OPTICS is a powerful tool for monitoring water column residuals during remedy implementation and for monitoring remedy performance.
Grace Chang, Ph.D.
Technical Director
Dr. Grace Chang is a consultant in limnology and oceanography. She has more than 20 years of experience performing site assessments, including hydrodynamics, sediment transport, particle dynamics, and marine and hydrokinetic energy. Dr. Chang has managed programs involving field operations, data processing and analysis, and numerical modeling for environmental characterization, and scientific research.
The Taskforce for Nature-related Financial Disclosures Has Released Its Final Guidance.  On September 18, the Taskforce for Nature-related Financial Disclosures (TNFD) released its final set of recommendations and guidance for implementation. The bottom-line message:...
GET IN TOUCH FOR MORE ABOUT OUR OPTICS SERVICES