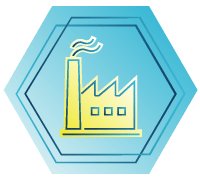 Our industrial clients face an increasingly complex and evolving array of science and engineering issues that can drive critical business outcomes.
Whether the need involves legacy environmental issues, emerging contaminants, product stewardship, environmental restoration, permitting, or regulatory compliance, our team has the skills and strategic focus to deliver results that address a wide range of business needs.  We uncover better solutions by listening closely, performing rigorous technical analyses, providing information that supports effective decision-making, and mitigating adverse risks.  Our industrial clients span small specialty companies to Fortune 500 firms in the chemical, manufacturing, energy, mining, forest products, agriculture, and consumer products sectors.
Could your groundwater discharge require a permit under the Clean Water Act? Integral Consulting Principal Marcia Greenblatt, Ph.D., P.E., explains the technical issues and challenges that you may need to address, pending the outcome of a Supreme Court decision on a...