Integral Issues the First Comprehensive Compendium of State Regulatory Activities on Environmental Justice
By Mala Pattanayek,
Senior Consultant
Miranda Henning, BCES,
Managing Principal
Integral Consulting Inc. (Integral) has released a state-by-state environmental justice compendium to help those interested in related issues navigate the network of programs overseen by states. The compendium serves as a comprehensive resource for use by states, industry, nonprofits, and law firms.
Integral is proud to share this Compendium of State Regulatory Activities on Environmental Justice.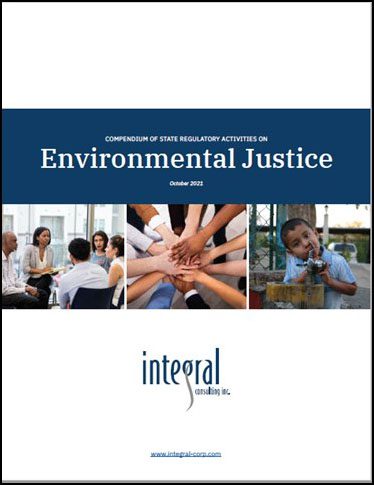 EPA DEFINES ENVIRONMENTAL JUSTICE AS…
"…the fair treatment and meaningful involvement of all people regardless of race, color, national origin, or income with respect to the development, implementation and enforcement of environmental laws, regulations and policies."
The Biden Administration and Michael Regan, Administrator of the EPA, have elevated the importance of environmental justice through wide ranging actions. At the state level, however, no single framework exists for state environmental justice programs. Consequently, virtually every state agency takes a unique approach to environmental justice. While some states have started enacting their own laws, others have integrated environmental justice into existing provisions. EPA recognizes the states' broad discretion for implementing their own programs and recommends that those states that have not yet started thinking about environmental justice issues, get started now.
"At a time when people are demanding environmental, governmental, and social action, Integral is committed to effective corporate social responsibility efforts and to helping our clients achieve this through the work we do on projects and in communities," said Mala Pattanayek, the firm's environmental justice lead. "We understand that comprehensive internal environmental justice policies and early and effective community engagement yield results."
Led by accomplished and motivated individuals grounded in collaboration, Integral is committed to creating an equitable, diverse, and inclusive environment for its staff, clients, and the communities it serves.
To learn more, please contact Mala Pattanayek at mpattanayek@integral-corp.com or Miranda Henning at mhenning@integral-corp.com.
Information presented in the compendium is current as of October 2021. Because environmental justice initiatives are so dynamic, updates will be posted on Integral's website on a regular basis.
About Us
Science and engineering firm Integral Consulting Inc. delivers strategies and insights that help our clients move forward in an evolving world.
Visit us at www.www.integral-corp.com.
Published
October 29, 2021