Permitting Constraints and Their Influence on Remedy Design
By Bridgette R. DeShields,
Principal
Additional contribution by Kathryn Purcell (Port of San Francisco)
Poster presented at Battelle Sediments Conference, Jan 9-12, 2023, Austin, Texas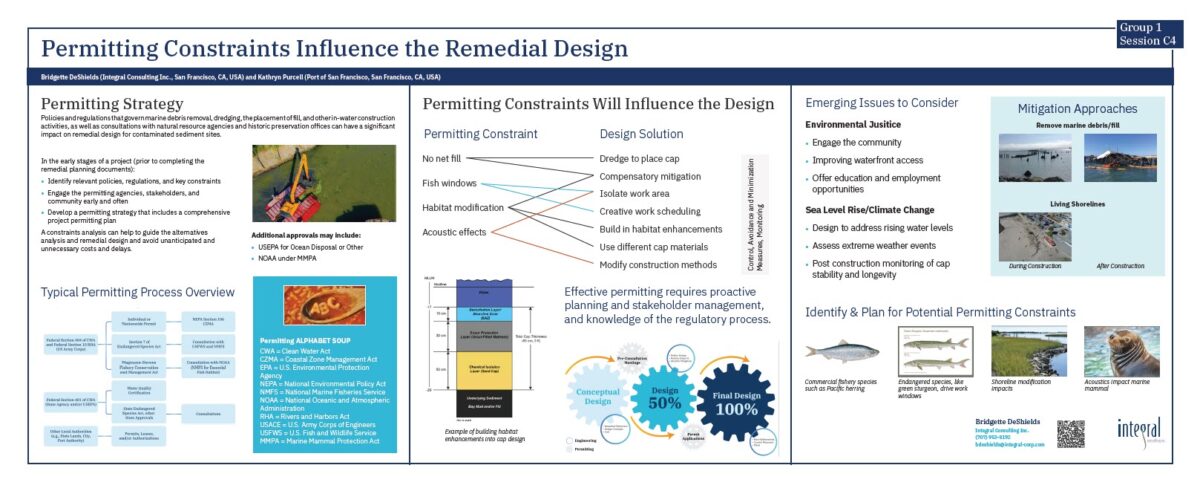 Background/Objectives
Policies and regulations that govern dredging, the placement of fill, and other in-water work activities, as well as consultations with natural resource agencies and historic preservation offices, can have a significant impact on remedy design for contaminated sediment sites. This presentation will identify key constraints that should be recognized early in the remedial planning process and considered in selecting alternatives and remedial design.
Approach/Activities
Several regulations come into play when conducting remedial activities in water: Sections 401 and 404 of the Clean Water Act; Section 10 of the Rivers and Harbors Act; Section 106 consultation under the National Historic Preservation Act; the federal Endangered Species Act; the Magnuson-Stevens Fishery Conservation and Management Act; the Marine Mammal Protection Act; and the Migratory Bird Protection Act. State regulations can often have a significant impact as well. Policies on net fill and the use of hard fill/hardscape can drive mitigation requirements and/or require specific depths for dredging and/or designs for capping.  Cap material that varies from native can be considered fill even if there is no net fill. In situ remedies and the addition of "non-native" materials such as carbon amendments may be also be considered fill activities.  Protection of special-status species can result in specific requirements for project timing and dictate certain types of construction equipment and materials for aquatic environments, robust turbidity controls, and/or extensive monitoring programs.  Post-remedy performance monitoring and criteria can also be dictated.  Key components and case studies will be presented to demonstrate the key issues and methods of resolution.
Results/Lessons Learned
In the early stages of a project, all relevant policies and regulations should be identified.  The agencies should be engaged early, and a permitting plan and strategy should be developed, prior to completing the remedial planning documents. A constraints analysis can help to guide the alternatives analysis and remedial design and avoid unanticipated and possibly unnecessary costs and delays.
Published
January 9, 2023
Related Services :
Related Content :