Integral Performs Sediment Modeling Research as Part of NSF Award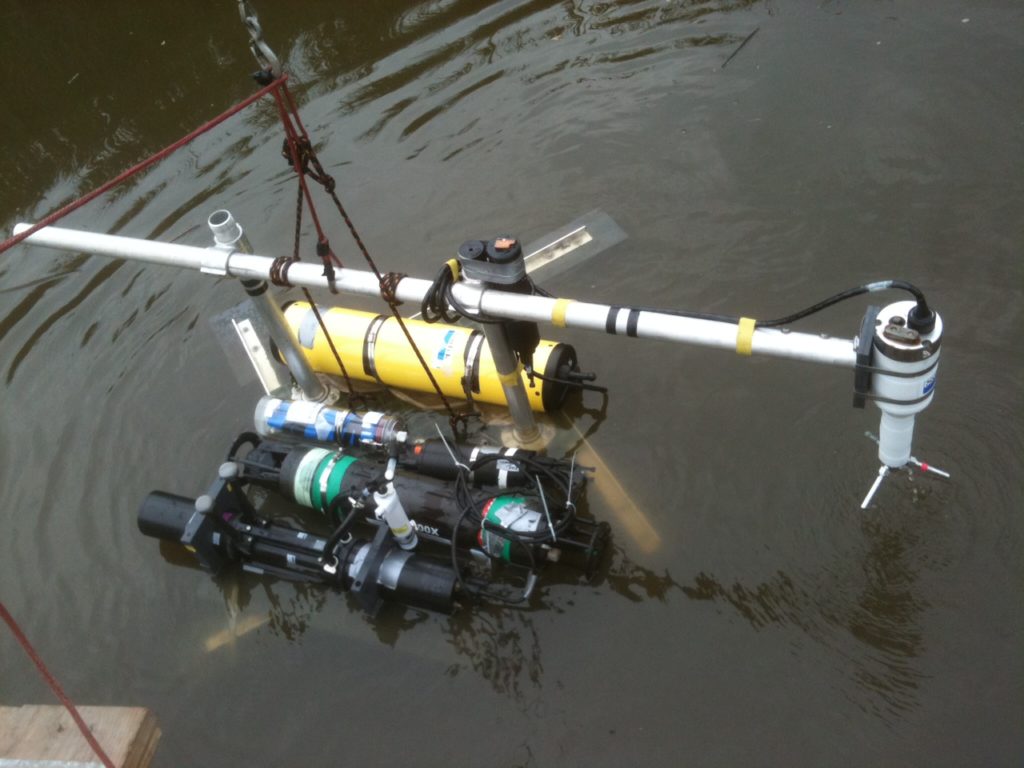 Integral scientists, as part of a subcontract from Stanford University, are collaborating on research designed to improve sediment fate and transport models. Stanford received an award from the National Science Foundation (NSF) for the project, "Improved Observation and Parameterization of Bottom Boundary Layer Turbulence and Particle Properties for Sediment Fate and Transport Modeling," which extends through June 2021.
Used to help answer environmental questions, sediment fate and transport models can quantify and forecast the environmental effects of cleanup efforts, the potential for reliable natural recovery, and possible impacts of extreme events such as severe storms and hurricanes.
Grace Chang, Ph.D., is the Integral principal investigator for this project. Other Integral staff participating in the project are Kara Scheu, Ph.D., and Gene Revelas as technical leads; Frank Spada as field manager; Sam McWilliams as laboratory manager; and Craig Jones, Ph.D., as principal in charge and technical advisor. Stanford principal investigators are Oliver Fringer, Ph.D., and Stephen Monismith, Ph.D. Andy Manning, Ph.D., of HR Wallingford also serves as a principal investigator.
Novel acoustical and optical instrumentation was deployed over three different seasons in the wave-driven estuarine waters of San Francisco Bay to collect a suite of field data from which relationships between physical dynamics and biogeochemical properties of suspended particles can be observed. Sediment profile imaging camera surveys and SEDflume laboratory experiments have also been performed to assess sediment bed properties affecting bottom drag and to measure erosion rates and bulk densities of sediment collected at the field site. In the final year of the project, the field and laboratory results will be used to inform a large-eddy simulation model that resolves high-resolution variability of the turbulent, sediment-laden boundary layer.
Linking academic-level researchers directly with researchers and consultants at Integral who are actively involved in Superfund cleanup, the project has also supported the doctoral research of graduate student and Integral scientist Galen Egan and the undergraduate research of Marianne Cowherd. These individuals have been advised by a diverse group and trained in advanced computational fluid dynamics and acoustic and optical field instrumentation, as well as practical aspects of environmental engineering.
Three manuscripts have been submitted for publication consideration—one was published in 2019 and two were published in 2020:
Egan, G., M. Cowherd, O. Fringer, and S. Monismith. 2019. Observations of near-bed shear stress in a shallow, wave- and current-driven flow. J. Geophys. Res. 124(8):6323–6344.
Egan, G., G. Chang, G. Revelas, S. Monismith, and O. Fringer. 2020. Bottom drag varies seasonally with biological roughness. Geophys. Res. Lett. doi: 10.1029/2020GL088425.
Egan, G., A. Manning, G. Chang, O. Fringer, and S. Monismith. 2020. Sediment-induced stratification in an estuarine bottom boundary layer. J. Geophys. Res. doi: 10.1029/2019JC016022.
For more information, contact Dr. Chang at gchang@integral-corp.com.